From Mark Watches
Anyway, for the most part, I felt really good about this special, so let's break this up into two parts:
The Good
This special was very liberal with the constant references to past canon, both of the revived show and the original run, and on the surface, I admit to being incredibly entertained by this. (The ding joke was my favorite.)
I watched this off iTunes and in HD, and it was gorgeous, one of the prettiest and best-filmed episodes of this show. So many haunting sequences! That scene with the War Doctor (I've since learned he's being referred to as the War Doctor) in the desert was UNREAL. I don't have a problem with excessive use of CGI, and for the most part, I enjoyed how surreal and otherworldly most of this special seemed.
For example: Clara riding her motorbike into the TARDIS. Breathtaking! I loved it!
And I still maintain that I love the idea of Clara and Eleven. (Fuck, can I even call him that? Or is he Twelve? Moffat, you didn't make this easy for any of us. More on that later.) Their chemistry is fun because it feels like they appreciate the same sort of silliness and shenaniganry that they provide for one another.
There are SO MANY neat characters in this, too! Osgood and MORE KATE STEWART and I actually liked the Zygons as villains. I never saw their original appearance, though.
I did like the idea of the dual storyline, where what's happening in the present mirrors the decision the War Doctor had to make. Yes, I had problems with the ending of this, but y'all know that parallel storytelling is my jam.
So, wizards have moving paintings, and Time Lords have 3-D paintings. Our paintings are awful.
Favorite running joke of the special: Eleven having a job. God, what a goofball.
I'm sticking half of my opinion here, but it was UNREAL to finally see the Time War. I honestly thought it would never happen on the show. But… well, see the second half, for more thoughts on this.
As ridiculous and heavy-handed as it was, I kinda loved that the Doctor used a gun for something that wasn't its intended purpose: to carve a message in stone.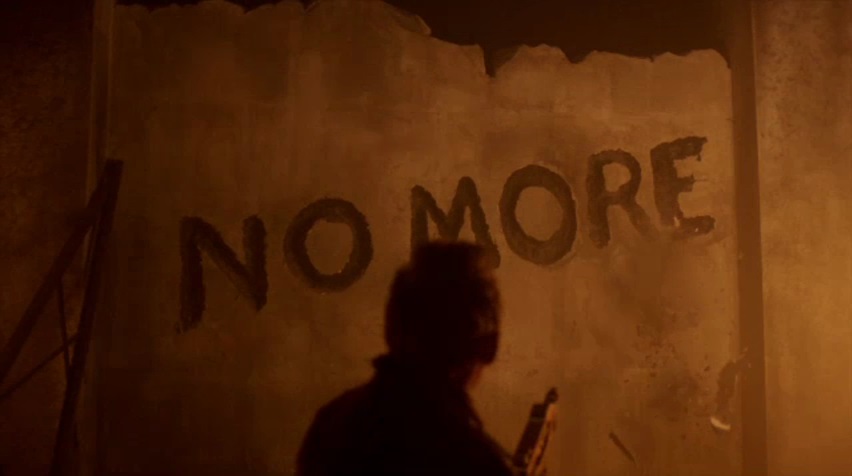 BILLIE PIPER AS THE MOMENT WAS E V E R Y T H I N G. Of course, I wanted Rose and Ten to be reunited, but I imagine that could have gotten weird and messy? But holy shit, Billie is such a fantastic actress. You know what she reminded me of here? When Donna Noble became part Time Lord. Anyway, even if she wasn't Rose Tyler, I adore that the image of Rose was what guided the War Doctor through this moral quandary because I adore Rose Tyler.
And I miss her. So, so much.
I miss Ten SO MUCH as well, and it was surreal to me to watch David Tennant perfectly slip back into this role without any hesitation. This wasn't just a little cameo or anything, either. HE WAS IN MOST OF THIS EPISODE! And it wasn't a trick like "Rose" was; this was his timeline intersection with his past and future selves.
I like Osgood not only because she's awesome, but because I just imagined that I was her, and that is precisely how I would act around the Doctor.
..
.